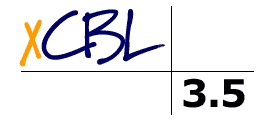 XML Common Business Library (xCBL), version 3.5
xCBL 3.5 contains all of the documents found in xCBL 3.0 as well as 9 new xCBL documents. Some of the xCBL 3.0 documents have been modified in response to new requirements and correction of bugs. The only modifications allowed to xCBL 3.0 documents were the additions of new optional elements and additions to code lists; to maintain interoperability between the two versions. An xCBL 3.0 instance of a document is also a valid instance in xCBL 3.5. New documents for xCBL 3.5 are in the areas of: Sourcing, Message Management, Order Management and Material Management.
xCBL 3.5 is provided in SOX Schema format, XSDL format, XDR Schema format (including Biztalk Server compatible versions), and XML DTD format to support all types of applications. There are very minor differences between the XML instances used with these different structural descriptions for validation and parsing. The differences concerned with SOX, XDR and DTD are described in the April 2000 xCBL User's Group Newsletter, and information on the slightly more complex issues involved around XSDL instances can be found on the XSDL page.