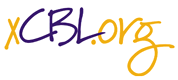 © Copyright Commerce One, Inc. 2000
All Rights Reserved
It is Commerce One's intention to support and encourage use of the XML Common Business Library by anyone who can make good use of it to further interoperability in electronic commerce. This includes copying, modifying and distributing the DTDs and XML Schemas. However, all use of the Common Business Library is subject to the license terms set forth below.
xCBL COPYRIGHT LICENSE
Commerce One, Inc. hereby grants to all users of the XML Common Business Library (xCBL) DTDs, schemas, and modules (the "Specification"), a perpetual, nonexclusive, royalty-free, worldwide right and license to use, publish, copy, modify and distribute the Specification. Commerce One further agrees to grant to users a royalty-free license under applicable Commerce One standard terms to implement and use the xCBL tags and schema guidelines included in the Specification for the purpose of creating computer programs that adhere to such guidelines. As conditions of this license, licensee agrees that: (i) it will not assert any intellectual property right against Commerce One or any other entity for implementation of the Specification; (ii) any publication, copy and/or distribution of these Specifications will include an appropriate copyright notice (as shown above); (iii) any modification of these specifications, will include the following statement: Parts of this specification are based on the Commerce One Common Business Library (© Copyright Commerce One, Inc. 2000, All Rights Reserved).
Commerce One expressly disclaims any and all warranties regarding this Specification, including the warranty that this Specification and/or implementations thereof do not violate the rights of others. These Specifications are provided "as is" without any express or implied warranty.
Please direct all questions or reports to xcblsupport@commerceone.com.
Commerce One, Common Business Library, CBL and xCBL are all trademarks of Commerce One, Inc.